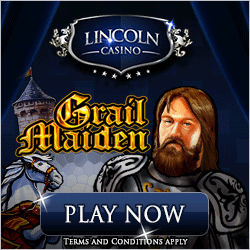 Win At Blackjack!
If you're looking to win at blackjack, first and foremost you should at least be practicing and using your basic blackjack strategy. Keep at it using our free game as a proving ground and you'll have a good enough footing to start winning at blackjack. Rather than go into what else to do to secure a sure win at blackjack, below we've outlined some of what you should NOT do if you're really serious about your game play and about winning.
Strategies to NOT use if you want to win at blackjack
"The No Bust Strategy"
Using this strategy, players refuse to take a card whether or not they have a chance of busting. Usually though it means never hitting with a hard 12 or greater. The appeal here is pretty simple, but flawed. It's done because some people find it frustrating for example to hit on a 13, bust their hand, and then see the play continue to the point where the dealer also busts. It's not a good strategy simply because you give away too much if you never try to improve your hand when you have a chance of busting. Go the "no bust strategy" route means that your only hope is for the dealer to bust - basically wishing on a star and not making meaningful decisions that the mathematical odds say will quite likely help you to win
Playing by intuition or guesswork
If you want to win at blackjack, one of the worst ways that you can go about it is by following your intuition or simply going off hunches. The blackjack table is definitely not the place for guesswork or gut feelings. Do that and it's almost guaranteed that you'll lose - and lose fast too. Guessing as you play gives you as much chance of winning as buying a lottery ticket, so why leave your win/loss up to fate. Make the play or suffer the fate - most likely to be ever-mounting losses. If you play in this manner, you're definitely making the casino owners smile because ultimately you'll be fattening their pockets for sure.
Save your pocket and your self-esteem. If you want to win at blackjack, make sure that you stay as far as possible away from the strategies detailed above, practice your own game-play using our free blackjack game and ensure that you at least use a basic blackjack strategy. That's about all it really should take to at least start you off on the winning track.